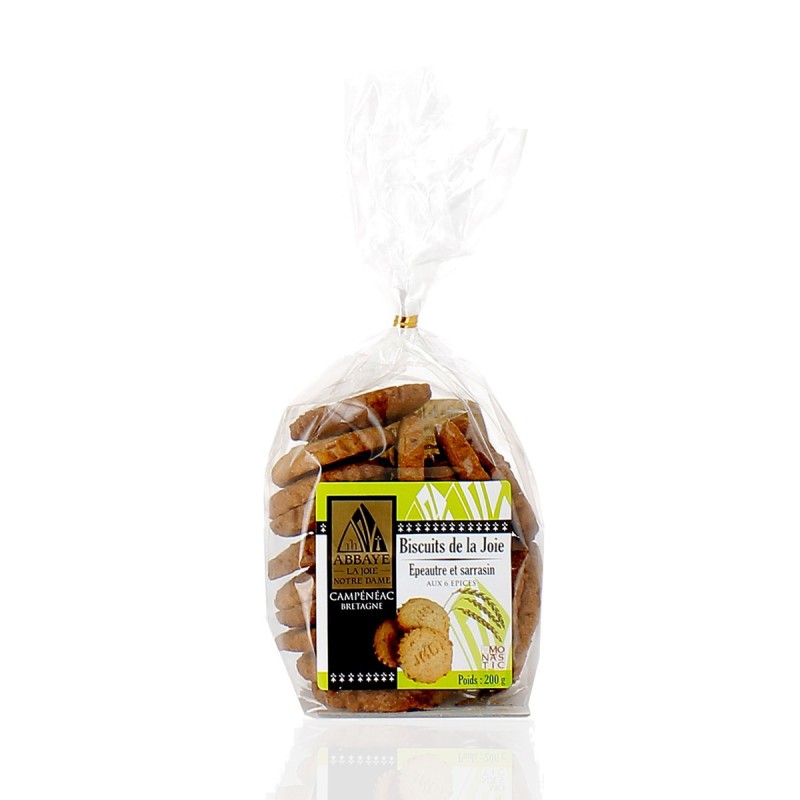  
Spelled cookies - Abbaye la Joie Notre Dame
Also called galettes de la Joie, these crunchy cookies will bring back the flavors of yesteryear with their spelled and buckwheat flours.

They leave a light bouquet of spices on the palate ...

The community, born in 1920 in Sainte Anne d'Auray (Morbihan), was founded by the sisters of the Abbey of La Coudre, in Laval (Mayenne), under the name of "Notre Dame de Bonne Garde".

The sisters developed a pastry workshop to make a living from their work

Spelled and buckwheat with 6 spices, cookies particularly suitable after exercise or sport but also to be enjoyed for pleasure !!!!

Security guarantees: 100% secure payment

Delivery Policy: Custom Delivery

Returns Policy : 14 Days to change your mind
Supplier: La Joie Notre Dame Abbey
Ingredients: Spelled flour 30%, concentrated butter, brown cane sugar, buckwheat flour 11%, honey, hazelnut and almond powder, eggs, spices (anise, cinnamon, nutmeg, coriander, star anise, cloves), salt.
May contain: Trace of Celery, Sesame, Mustard.

Average nutritional value per 100g
Energy (kJ) / (kcal): 1899/455
Fat (g): 25.4
of which saturated fatty acids (g): 12.1
Carbohydrates (g): 45.7
of which sugars (g): 19.4
Protein (g): 8.4
Salt (g): 0.32

Net Weight: 200g



Made in France at the Monastery

"Cistercian" comes from the word "Cîteaux", in Latin Cistercium and which means the place of the cistels; Cîteaux in France is at the origin of this reform movement in 1098.

Monks and nuns live apart from worldly affairs, and in male or female communities; the two male and female branches form a single order. The Order is present on five continents: each community observes the same lifestyle while adapting them according to the places.


Sr. Angelina

At the Monastery of La Joie Notre-Dame, Sister Angelina would be a Trappistine sister like the others if her journey before the monastery had not been so unusual: Sister Angelina "made the journey", in Latin America and North Africa, traveled through France, for 18 months with a friend and two donkeys, earning a living by showing a puppet show ... She was a student at the School of Fine Arts in Valencienne, executed a host of small trades: waitress of coffee, pizza seller… She experienced all kinds of excess, a very free existence in which she put herself in danger, before radically changing her life when she arrived at Campénéac Abbey, south of Rennes, at the gates of the forest of Brocéliande, with her two donkeys and the friend with whom she toured France on foot.
16 other products in the same category: