Natural care
Why natural facial and body treatments in a monastery?

In the heart of an abbey founded in 937, we, the Benedictine sisters, have been manufacturing skin care products since 1954. Thought to respect the most fragile skin, we have formulated them to be at the same time natural, modern and effective. You enter our shop, a place where we invite you to discover the best of monastic craftsmanship with gourmet and generous cosmetics made at home, at the monastery, designed to respond to your skin problems but above all your search for well-being. . Treat yourself to an enchanted break to relax, let go or simply have a moment of relaxation. On the menu of our abbey, care, care and more care, because even if we often generalize this in "cosmetic products", here at the Saint-Vincent de Chantelle Monastery, we offer you much more, a real bubble of sweetness ideal against stress, made to take care of yourself in a NATURAL way !!!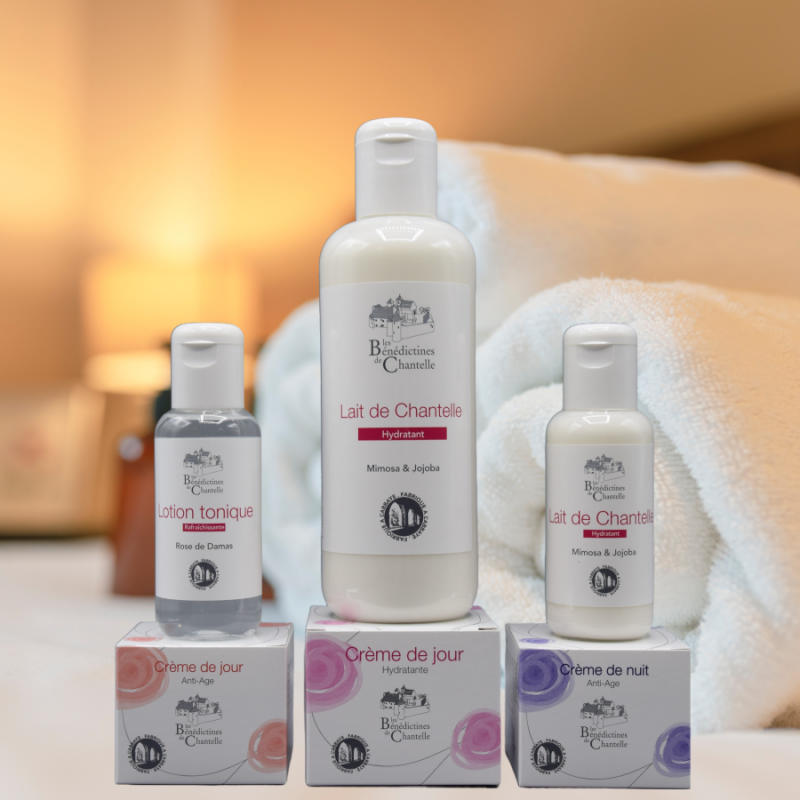 Is it good for me, good for my skin?
Yes, your skin also needs to be taken care of and it is important to offer it aromatherapy products designed for relaxation but also to meet its needs. Some are very specific, which can provide invaluable help to your joints (Opaline lotion, Aiguebelle balm, etc.), others have been designed to provide daily hydration to your skin. From eucalyptus essential oil, for hammam and sauna, to treatments that promote natural drainage, including massage oils, discover a complete range for hygiene, cleansing and bodily well-being. So, are you surprised by the monastic products?

Whether it is for a skin problem, to take your daily shower or to laze around in a bubble bath, relax and let yourself be pampered by the rituals of our abbey and the benefits provided by all the plants that we use. Each religious community transmits knowledge, know-how and sometimes, more original, scientific formulas of proven effectiveness generation after generation. Relaxing, letting go, because it is also about taking care of yourself. It allows you to return to the other, to present yourself in your best light, to sometimes even be more attentive, the moments of calm and quietude aiding in concentration and meditation. We invite you to combine the useful with the pleasant. Indeed, you take care of yourself but also of us. By buying the products of our monasteries, you allow us to live, to pay our bills and above all to live our Faith in complete independence, this same Faith that brings us to these places so special that you will be able to discover through our achievements.

A perfumed escape with Polynesian accents with the dry oil scent of tiare flower, non-drying soaps for the face and body, light creams ideal for hydration, with shea ... find in France the ointments that will best suit the skin. nature and specific type of your skin. Treatments that you won't find everywhere, sometimes made in limited quantities by enthusiasts eager to share ancestral know-how with you, that of the monasteries.

Like the Abbey of Saint-Vincent de Chantelle, a community of Benedictine sisters located in Auvergne Rhône Alpes, or the Monastery of the Brothers of Notre-Dame d'Aiguebelle, the abbeys of France have been developing and manufacturing for decades. products intended for your skin. Ancestral recipes for some, such as Emerald Water from Bouzy la Forêt or benefiting from what science is capable of offering (hydration, anti-aging, etc.), the products we offer remain simple and of high quality. When made in the convent, monks and nuns invite you to make unique discoveries, the use of safe and healthy products, designed to meet the needs of your skin.

The Benedictines of Chantelle created monastic cosmetics in order to make a living from their work, to maintain a unique heritage and to accompany you every day. A clever blend of ancestral herbarium and scientific modernity, discover unique treatments, the fruit of the work of many generations. Let yourself be seduced by more than 60 years of know-how.