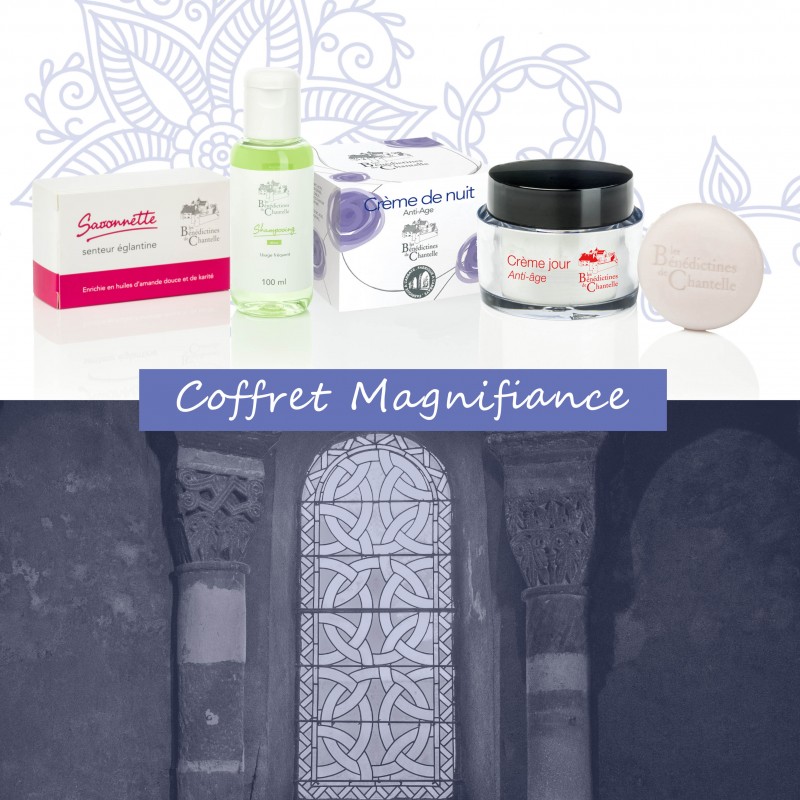  
Magnifying gift box - benedictines of chantelle
Through this box magnificence you will discover the technicality and effectiveness of the products that we develop in the heart of the abbey.

It is composed of 6 products designed to meet the requirements of the most delicate skins:

- NEW Anti-Aging Day Cream (50 ml jar)

- Night cream (50 ml jar)

- Blackberry Shower Gel (100 ml)

- Rosehip scent (100 g)

- mild shampoo (100 ml)

- Soap guest ripe-violet scent (20 g)


Developed, manufactured and even packed by enthusiasts !!!

Ideal to make a gift that give SENS, ...
Security guarantees: 100% secure payment

Delivery Policy: Custom Delivery

Returns Policy : 14 Days to change your mind
This box contains all the products described in its presentation. The products are available individually, of course, just like the box.

We wanted it colorful and chic to highlight the quality of products that we develop and manufacture artisanally and scientifically at Chantelle Abbey.

If you have a question, do not know how to send it to a friend, want to offer to all those you know, especially do not hesitate ... to call us on +33 (0)4 70 56 62 69. If we do not let's not answer that we are busy in another Service; )) Feel free to leave us a message with your details.
You might also like