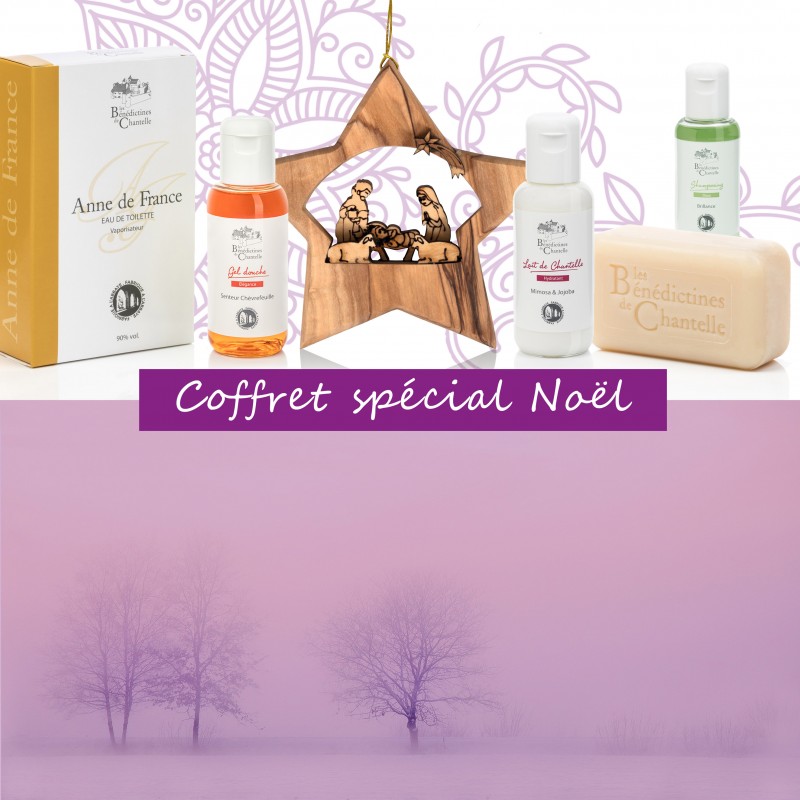  
Special Christmas gift box - benedictines of chantelle
Exclusivity, a special Christmas gift box.
In this superb box set 100% made in France, we offer for ladies but also for a couple, different natural treatments that we make at the abbey, accompanied by a very pretty wooden crib (10 cm wide) which can be to be hung from the tree on Christmas Day.

Give your loved ones some meaning with a different gift.
Product details below.
Security guarantees: 100% secure payment

Delivery Policy: Custom Delivery

Returns Policy : 14 Days to change your mind
This set is composed of a bottle of Lait de Chantelle (100ml), a shower gel scent of honeysuckle (100ml), a vanilla scent soap (100g), a mild shampoo (100ml), an Anne de France eau de toilette ( 100 ml), the famous wooden crib to hang, all presented in our gift box which is:
- Recyclable - Made in France
- Using vegetable inks and water-based varnish
- Made from paper from sustainably managed forests

Developed, manufactured and even packaged by enthusiasts !!!

Ideal for making a gift that has SENSE. For the exact composition of the products in this set, we invite you to visit the pages of each product.