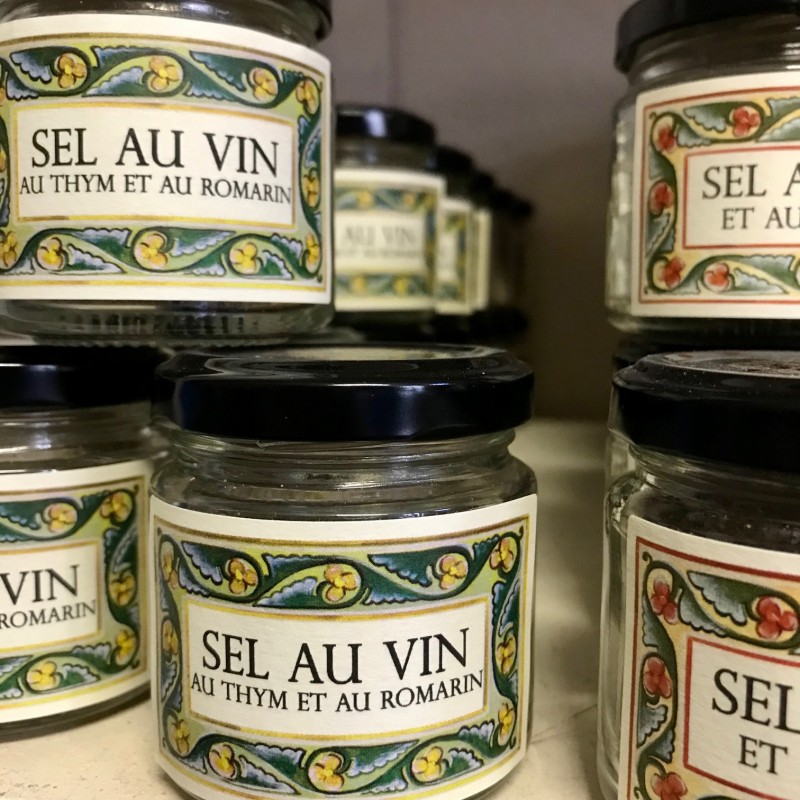  
Rosemary wine salts - Solan monastery
You had to have the idea: combine salt with wine and various plants from their land.

After tasting, we can confirm that it is both astonishing and captivating. Cex wine salt (Thyme + rosemary) is a real flavor enhancer and enhances your dishes.

It will enhance your grilled meats, go perfectly with a tomato salad and the combination of thyme and rosemary will transform a green salad or a potato ...

It's up to you to discover which one you prefer.
Wine salt, rosemary and thyme

Supplier: Monastery of the Protection of the Mother of God of Solan

Ingredients: Salt, Red wine, rosemary (5%), thyme (5%) / Prepared with 25 ml of wine for 100 g of flavored salt.


Average nutritional value per 100g
Energy (kJ) / (kcal): 198/47
Fat (g): 0.5
of which saturated fatty acids (g): 0.3
Carbohydrates (g): 4.2
of which sugars (g): 2.4
Proteins (g): 0.6
Salt (g): 81.9

Net Weight: 60g


Directions for use: Use with grilled meats, potatoes and salads. Store in a dry place.

Made in France, at the abbey



History of the Solan Monastery

The monastery of Simonos Petra is one of the twenty great monasteries which were built between the 10th and the 14th centuries on a long peninsula which sinks into the Aegean Sea, in the northeast of Greece, and which dominate the high peak of Mount Athos (2033 m.). In 1978, this Greek monastery counted among its members several foreigners, notably French. Among them were Father Placide (Deseille) and the one who was to be his faithful companion, Father Séraphin (Pyotte), both already rich in long monastic experience. In 1978, while Father Placid translated from Greek into French the Holy Ladder of Saint John Climacus, basic text of orthodox monastic spirituality, Father Séraphin studied Byzantine song and sang the glory of God by the tireless and skillful work of his hands.

Sent then to France by Archimandrite Aimilianos, higoumene of Simonos Petra, to establish a foundation there which would be a dependence of this monastery, the Fathers Placid and Séraphin inaugurated the Monastery Saint Antoine the Great on September 14, 1978, in a dilapidated house located in Saint Laurent en Royans, in a wild Vercors valley. With self-denial and trust in God, they set to work. They summarily restored the buildings, while ensuring daily offices in an improvised chapel, and continuing to lay the foundations of a monastic life in accordance with the millennial tradition of Mount Athos. Father Placide translated from Greek the Spiritual Homilies of Saint Macarius of Egypt, while Father Séraphin spent his days working with his hands and his nights adapting Byzantine melodies to Greek liturgical texts translated into French.

This is how the Saint Anthony the Great Monastery was founded. And in its wake was born the Monastery of the Protection of the Mother of God, which was later to be better known as the Monastery of Solan.

At the same time, Father Elie (Ragot), also from Simonos Petra, founded in Murel (Lot) the Monastery of the Transfiguration, which was then to be transferred to Terrasson (Dordogne).

Since 1996, Father Séraphin has lived as a hermit on the island of Porquerolles, in the Fort de la Repentance, which he restored with his own hands and transformed into a Monastery of Sainte-Marie-du-Désert.
8 other products in the same category: