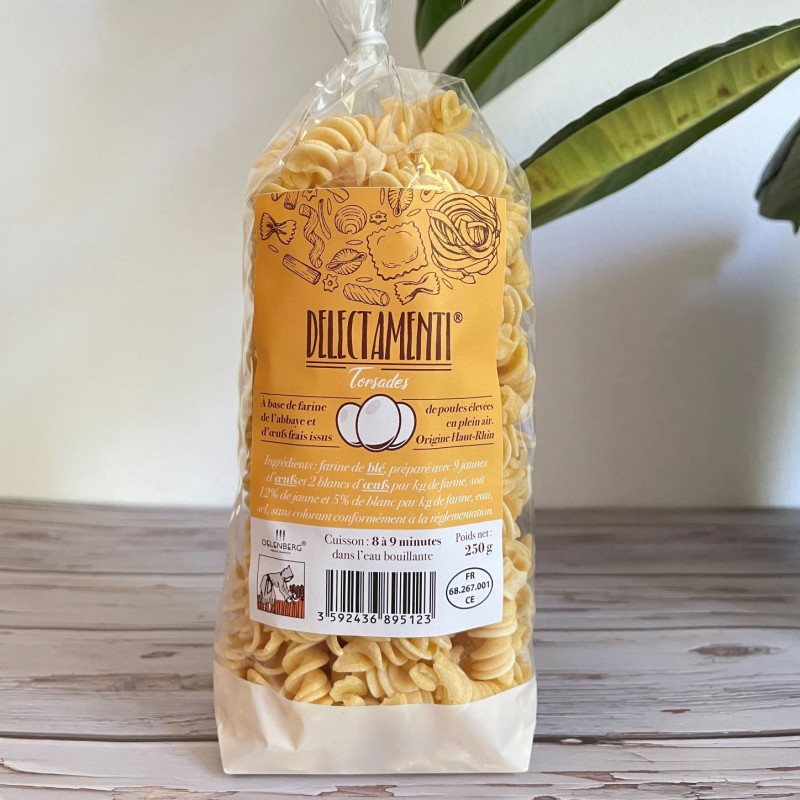  
Twisted pasta with fresh eggs - Oelenberg Abbey
In the Alsatian tradition, one of the best-known culinary specialties is the making of pasta made from flour and fresh eggs.

The brothers of the abbey are transmitted generation after generation specific skills to offer you a dough both firm and melting.

Taste the difference of monastic productions...
Supplier: Our Lady of Oelenberg

Ingredients: Wheat flour, prepared with 9 egg yolks and 2 egg whites per kilo of flour, ie 12% yolk and 5% white per kilo of flour, water, salt. Colorant-free in accordance with regulations.


Average nutritional value per 100g
Energy (kJ) / (kcal): 1219/289
Fat (g): 4.4
of which saturated fatty acids (g): 1.22
Carbohydrates (g): 52
of which sugars (g): 1.2
Protein (g): 9.2
Salt (g): 0.02

Net Weight: 250g

Made in France

Young and old alike will have a blast by helping to conserve heritage.
Oelenberg Abbey today


From a heritage and artistic point of view

Of the buildings of the past, only a few parts remain: the lower part of the choir of the 12th century chapel, the transept of the old abbey church (1486) and its baroque nave (1755). A processional cross from the 12th century, a large crucifix from the 14th century and two beautiful statues of Our Lady from the 15th and 18th centuries are also preserved. In the old Jesuit church, the Saint-Michel and Saint-Léon chapels have been built.

The Saint-Michel chapel has Gothic vaults and Romanesque openings. Three keystones are preserved there with coats of arms dating in particular from 1486. ​​The chapel of Saint-Léon preserves parts of the 12th century in its apse. We can see capitals with palmettes. One of them represents two heads separated by a cross and designated by the letters S.P.A. and S.P.E. (Saint Paul and Saint Peter).

Another chapel called "the Mount of Olives" was in the 12th century an isolated building. Later, it was included in the other buildings and served as a cellar until 1895. At that time, it was dismantled stone by stone and rebuilt in the current novitiate in 1921. Its lower parts are Romanesque; the keystones are Gothic. In the Chapter, is exposed a painting of the XVIIIth century, recently restored, representing the scene of "the lactation of Saint Bernard". It comes, along with three other reliquaries from the same period, from the Cistercian Abbey of Lucelle which disappeared during the Revolution.

Three reliquaries from Oelenberg are also found in the parish church of Reiningue. The oldest, a gift from Pope Leo IX, is a partly gilded silver box. It dates from the 11th century. It contains relics of Saint Roman. Another reliquary, said of Saint Romain, is a 12th century work. It contains relics of Saint Roman, Saint Lawrence and other saints. Finally, a reliquary bust of Saint Roman, from the 14th century, contains a relic of the saint's skull.

Nowadays, the monastery has an important library of more than one hundred thousand books.
Karine V. published the 22/09/2023 following an order made on 03/09/2023
Je préférerais sans œufs
Comment from SNFB Chantelle the 15/09/2023
Bonjour Madame, merci de votre contribution sur les pâtes. Êtes-vous réellement déçue de la qualité du produit ? Elles sont présentées dès le début comme étant une recette à base d'œufs. Une note de 2/5 est en effet très pénalisante pour nous.

Show exchanges

Hide exchanges
CHRISTIANE N. published the 31/05/2023 following an order made on 17/03/2023
consistence trop epaisse
Stefaan V. published the 29/11/2022 following an order made on 15/08/2022
Elles ne tiennent malheureusement pas à la cuisson mais elles sont très bonnes.
You might also like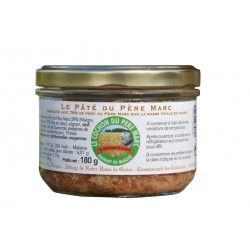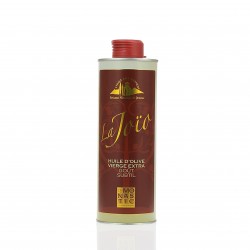 8 other products in the same category: